Charlotte, North Carolina
Blair provides commercial real estate and church counseling expertise. He has a deep history with the Churches of Christ, having served as a deacon, elder, building committees, small group leader and Sunday school teacher.  He has attended and worked with congregations in North Carolina, California, Texas, Oklahoma and Alabama.  Blair also directs a mentoring program for Harding University business majors. He has a 26 year background in the commercial real estate industry, having worked on projects in 24 different states.  Additionally, he has started and managed several different companies.
With a BA in Accounting from Harding University and a JD from Stanford University, Mike's career has included 38 years in higher education with Christian universities.  He has taught at Harding University, then served as General Counsel, Vice President and Vice Chancellor at Pepperdine University.  After serving as President of Oklahoma Christian University for ten years, and Chancellor of the University of Rwanda for six years, Mike is currently President Emeritus of Oklahoma Christian University and devoting his time and experience to helping numerous non-profit organizations.
Dr. Stan Granberg is the Executive Minister at the Southwest Church of Christ in Jonesboro, AR and the former Executive Director of Kairos Church Planting which works to help Churches of Christ plant new congregations and campus ministries across the United States. Stan received his education from Harding University, Fuller Theological Seminary and the Oxford Centre for Mission Studies.  He has served as youth minister, missionary in Kenya and taught Biblical studies at Lubbock Christian University, Cascade College and Harding School of Theology. 
Scott is the acting president of the Heritage 21 Foundation. He served as campus minister at Pepperdine University for 22 years; associate minister at the Hilltop Community Church of Christ, Network Director for Kairos Church Planting, and most recently, Executive Director of Let's Start Talking, an international and domestic ministry focused on evangelism. Scott has been honored to serve as an elder, adult bible teacher, small group minister, missions committee chairman and speaker. He is the proud father of three grown children and has been married to his wife Kim for 28 years.
Rick Gibson serves Pepperdine as the senior vice chancellor to cultivate intentional relationships with community, government and religious partners. Since 2009 he has led Pepperdine's efforts to elevate the brand and reputation of the University, working directly with the president to shape the University's vision and advance Pepperdine's mission.
In his church relations role, Gibson directs and leads the office that produces Harbor, the annual Pepperdine Bible Lectures. Prior to joining the University in 1997, Gibson served for eleven years as a minister at the Mission Viejo Church of Christ in Orange County, California.
Brant provides commercial real estate and church counseling expertise. He has a deep history with the Churches of Christ, having served as a deacon, elder, Sunday school teacher and small group leader.  In the commercial real estate industry, Brant has provided  leadership for projects of major corporations such as Conoco-Phillips, Cisco Systems and Texas Instruments.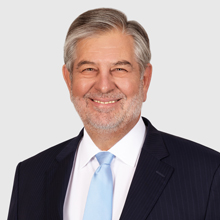 Dan's participation on the board is part of our network initiative to interface with other ministries and organizations in our fellowship sphere. Dan has served as the president of Missions Resource Network (MRN.org) since August 2010. Before taking the lead of this international missions ministry, Dan served in congregational ministry for over two decades with three different churches in Texas and Oklahoma. He also served on the boards of Great Cities Missions and Christian Relief Fund, as well as other community service and para-church boards. Dan has worked with churches on six continents and congregations throughout the US. He has written three books: The Gospel Unleashed, The Gospel Unhindered, and When God Seems Absent. 
Grady's participation with our board is also a result of our network initiative. Grady's passion is helping church leaders and congregations in healthy, gospel focused ministry. Since 2016, he has done interim work in Stephenville, Terrell, Paris, and Lufkin, TX as well as Salt Lake City, Utah.  As leader of HOPE Network, he works with approximately 30 congregations, 50+ ministers and 75+ elders annually in a variety of ways: providing resources, elder-minister team building; elder group functioning and focusing the church outward to the community. Since 1977 he served in five congregations as youth minister (7 years) and preacher (33 years) with 27 of those years in two congregations (Mansfield and Irving, TX).